Welcome to Elgin County Midwives! You have been accepted into care and have an appointment scheduled. This is what to do and expect.
Before your appointment
You should have received an email from LibreMD Messages <messages@libremd.ca> prior to your first appointment. LibreMD is the Electronic Medical Records (EMR) program that we use.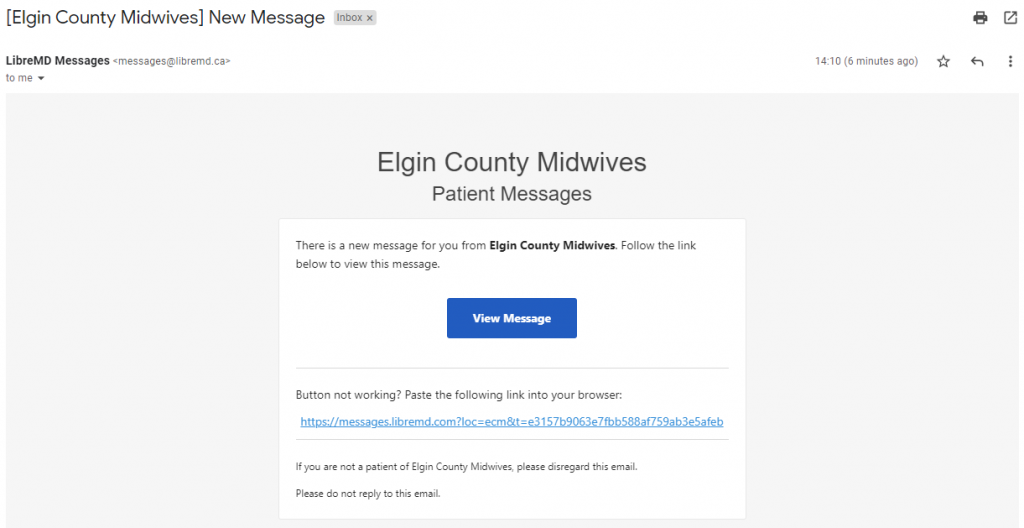 We can send you private medical documents safely and securely this way. You will be asked to enter your health card number and your date of birth.
This is an important email. It explains what to expect at your appointment.
There are important documents that are attached. Please read these documents before your appointment. If you are able to print and sign the consent form that would be helpful. We have copies in the office, if you are not able to print it.
Text reminders:
You will receive a text reminder of your appointment 2 days prior to your appointment. There are 2 links in the text message.
confirms your appointment
COVID screen

Please complete the day before your appointment.
At your appointment
Only you will be allowed into your appointment. Your spouse and/or other children are not permitted to come in with you.
Be sure to have a mask with you as we will ask you to wear it when you come in for your appointment.
When you arrive for your appointment please stay in your vehicle. Text your full name and time of appointment to 289-241-2504. You will receive a confirmation text. Your midwife will be notified that you are waiting in the parking lot.
Your midwife will call you and will conduct the majority of the appointment while you are in your vehicle over the telephone. This includes any questions you may have and any teaching that she will have for you.
The next appointment will be scheduled at this time.
You will be invited to put on your mask and come inside for your appointment.
Please use the hand sanitizer provided when you enter our unit.
We understand that you may need to use the washroom. You are welcome to but we ask that you let us know so that we can sanitize it.
You will be asked to go directly to the examining table and the hands-on portion of your visit will be completed then. This typically includes:

blood pressure check
feeling your abdomen
listening to the fetal heart rate with the doppler
may include blood work or other samples as needed for your prenatal care.

The hands on portion of your appointment is meant to be less than 15 minutes in order to decrease the risk of spreading COVID-19.
Note:
If you or anyone in your household is ill please try to reschedule your appointment. We advise that you schedule a COVID swab via Email: assessmentcentre@stegh.on.ca
or/Call 519-631-2030 ext. 6210
If we are unable to reschedule your appointment then we do have a simple isolation room with a separate entrance that we will see you in.