March 16, 2022
Here are 2 of our favourite resources for COVID 19 in pregnancy and breastfeeding.
Omama is an excellent, Ontario-based app and website that we highly recommend.
omama.com/en/pre-pregnancy/Coronavirus-disease–covid-19-.asp
Did you know that Ontario has a Provincial Council on Maternal and Child Health?  We do and they are a fantastic resource.  Their recommendations affect policy implemented in our province.
Click here to access their information on COVID
---
August 3, 2021
Now that we are in new, more open phase we are conducting the full visit in the office!  We are asking that you still wait in your vehicle as we have not opened the waiting room up yet.  When you arrive please text 289-241-2504 and let Lynda or Ann know that you have arrived.  They will let your midwife know you are waiting.
We are now allowing 1 adult support person to come into visit!  We have missed meeting your people!  We are asking that you do not bring your children yet.  If you arrive and you have your children with you we will ask you to wait in your vehicle and will do the discussion portion of your visit by telephone and ask you to come in for a very short hands on portion of your visit.
---
As the weather is warming up and since we have come out of Lockdown we have made a few more changes to serve our client's needs and make the COVID precautions run more smoothly.
We are hoping to have Lynda back in the office soon but the telephones are forwarded to her during office hours.  This allows her to answer the telephone and chat vs playing telephone tag!  It's been working very well.
We are doing a few more home visits, with our full PPE (gown, mask, head covering, eye covering and gloves).  We strive to see our client's and their baby at home on day 4 postpartum.  More home visits may be reasonable based on the individual case and will be determined by the midwife providing care.
At Elgin County Midwives we are working hard to do our very best to provide excellent care to our client's and their babies during these difficult times. Ontario is in "lockdown" starting today, December 26, until at least January 23. We need to do our part is slowing the spread of COVID-19.
Effective immediately, we will be doing very limited home visits in the postpartum. COVID-19 is community spread and we need to decrease the number of homes we enter. We also need to wear full droplet precaution PPE – gown, scrub cap, googles, gloves and a mask. It is very challenging managing that PPE out of our vehicles during the winter.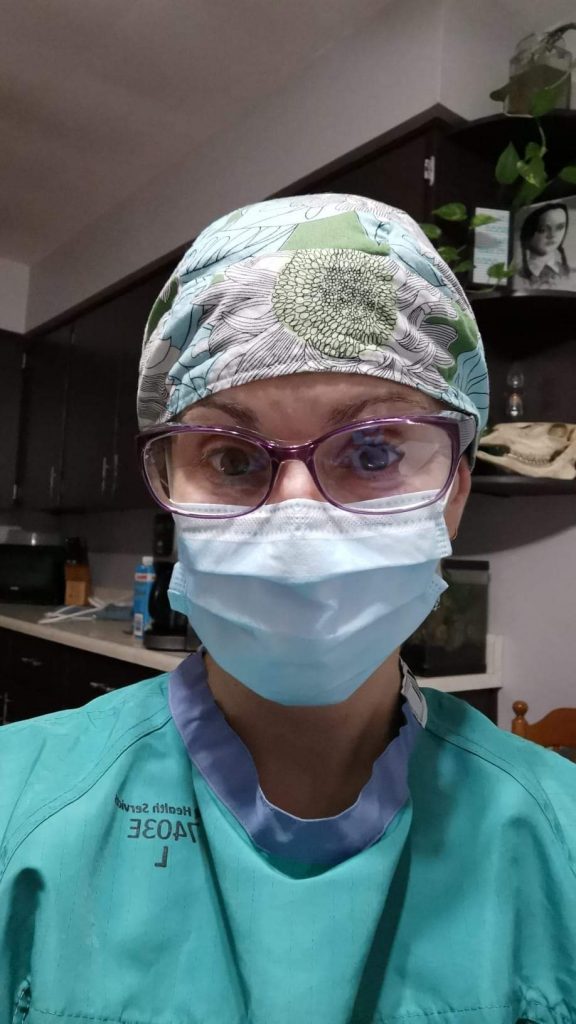 We are continuing to support choice of birth place and for clients who are safe and appropriate for a home birth and wish to deliver at home (home is not inherently safer than hospital, from a COVID perspective). We will see those client's 24-48 hours after delivery at home for the newborn screens. All other postpartum visits will be done in the clinic.
What to expect for your postpartum visits
Visits are typically done on day 1, 3-4, 7-10, 3 weeks and 6 week discharge.

More visits may be appropriate depending on the clinical situation such as is the baby gaining weight well.

Day 1 visits are done at STEGH prior to your discharge home.

If you choose to go home prior to 24 hours, we are asking you to come into clinic between 24 -48h to have your baby's newborn screens done.

Your day 3-4 visit is scheduled with the on-call midwife. She will call you, typically in the morning, to go through any discussions and arrange a time to meet at the clinic for the appointment.

During this telephone call is your opportunity to ask questions and have any discussions with your midwife
She will complete the COVID screening questions during this telephone call.
The in-person portion of the visit is kept very short and clinical – a physical exam of the client and baby including a weight check.
You will be asked to wear a mask for this visit.

Your day 7-10 day visit is scheduled into clinic. The visit will be conducted the same as your prenatal appointments.
Your 3 week and 6 week discharge appointments can be done as telephone appointments, as long as the baby has been feeding and gaining well and there are no clinical concerns. You and your midwife will discuss whether an in person appointment is appropriate or not.
We are all looking forward to when we can see the babies we delivered, as toddlers and little children, be excited to welcome their new sibling to the family. We miss hugging new parents when they really want to thank you with a hug for helping them on their journey. We miss the connections that can make midwifery so unique. We will get through this and until then we need to keep one another safe.
---
December 3, 2020
At Elgin County Midwives we take your safety seriously.  This global pandemic has had a dramatic and deep impact on us all.  We have implemented a number of safety measures to protect you and your baby.  If you have had babies in the past with us, you will notice some differences in how your care is being delivered.
COVID screening: we all miss Lynda. She misses you all and continues to work from home.  She will call you prior to your visit and complete your COVID screen.  If you fail your screen, you will be asked to do a telephone visit or reschedule your visit.
Shorter hands on appointments: When you arrive for your appointment please wait in your vehicle.  Your midwife will call you on your cell phone.  All discussions will be done on the phone and your next visit will be scheduled while you are on the phone.  You will be asked to wear a mask and use hand sanitizer when you come in.  The hands on portion of your visit will be only a few minutes.  Limiting the amount of time spent in close contact is important in reducing the spread of COVID-19.
Spaced visits: we are following the recommendations from the Association of Ontario Midwives:

One contact during the first trimester
Two contacts during the second trimester: at 16-20 weeks; 28 weeks

A third contact between 25-26 weeks may be offered

Five contacts during the third trimester: at 31-32 weeks; 34-36 weeks; 38 weeks; 40 weeks; 41 weeks
Some visits may be done as a telephone visit
As always, we will use our clinical judgement in determining if antenatal visits outside of or in addition to this schedule are necessary. Individualized care plans may be necessary according to a client's clinical circumstances.

Personal Protective Equipment: you will be asked to wear a mask.  The midwives will be wearing a mask during your prenatal appointments in the office.  She may be wearing a gown, mask, eye protection, head covering, gloves and shoe protection.  Your midwife will be wearing her full PPE during all births – home or hospital.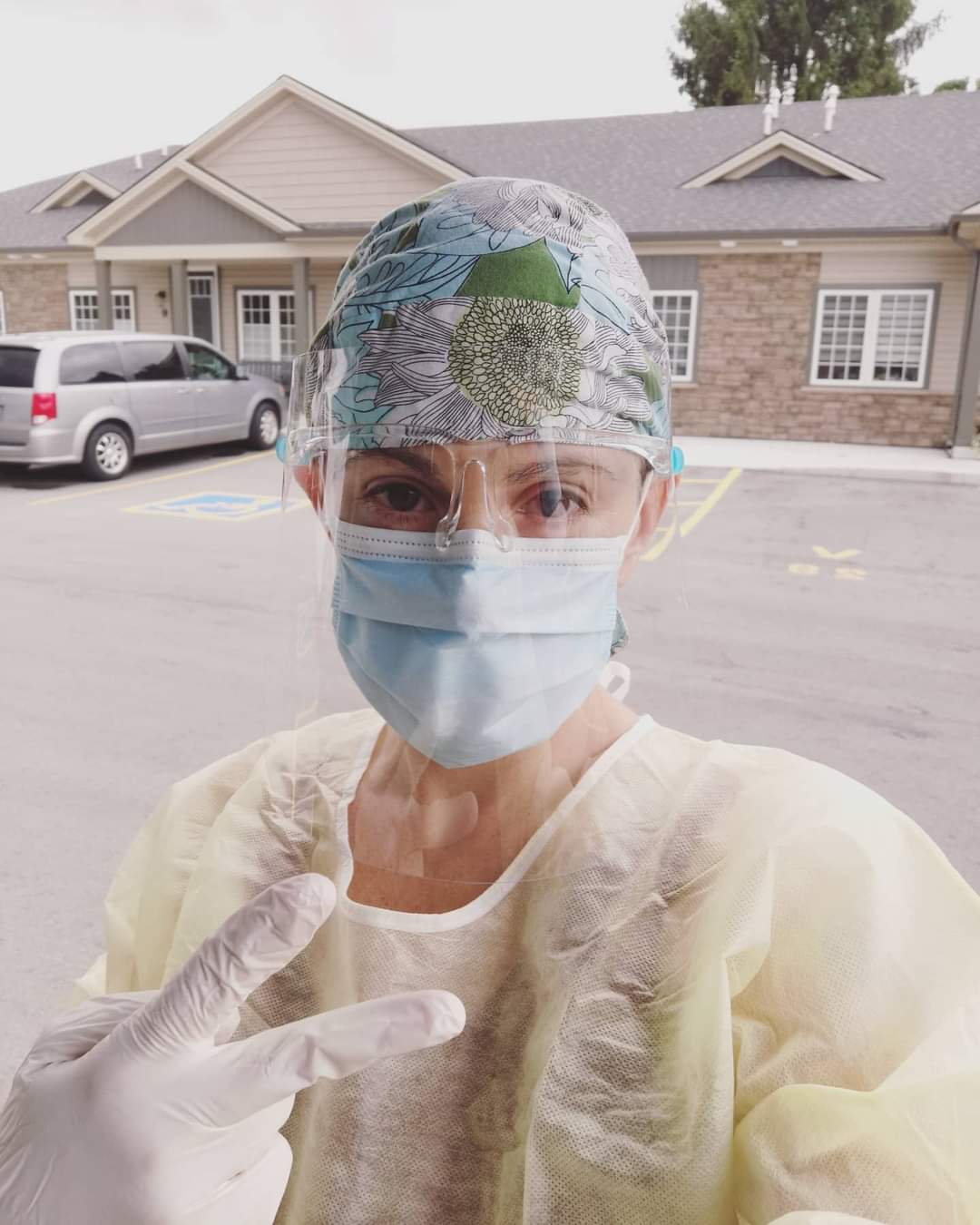 Choice of Birth Place: we continue to support home births.  There is not strong evidence that home is safer than hospital.  If you are choosing a home birth we will ask you to:

limit the number of support people to one
to limit the number of people in and out of your home prior to your birth
pay extra special attention to cleaning and sanitizing high touch surfaces etc
If you have any questions please don't hesitate to discuss it with your midwife at your next appointment.  Let's help to protect each other during this global pandemic.
For more information:
Association of Ontario Midwives
Public Health Agency of Canada: COVID-19 Being Prepared
Ontario Ministry of Health: The 2019 Novel Coronavirus (COVID-19)